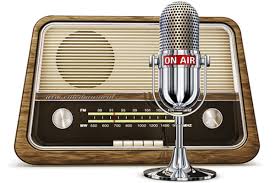 Yvonne and I had the priviledge of sitting down with Charles Mills of Life Talk Radio. We did several interviews which were aired shortly afterwards. You can now listen to these interviews over your computer. Just click the arrow and listen. Click arrow again to stop audio.
November 2017

SC11 – The Church at Work - Johnson and Houser
While it's vital that individuals step up to the plate and share a part of themselves with those behind bars, it is equally encouraging when an entire church denomination does so as well.

SC12 – Broken Pieces - McClures
You see a lot of things when you've dedicated 40 years of your life to something. Just ask Don and Yvonne McClure, founders of Someone Cares prison ministry.

SC13 – Hands and Hearts - Dr Steve Mulder
Enclosed by prison walls, we find all types of people from all types of cultures. No one knows this better than Dr. Steve Mulder.

SC14 – This World is Not Our Home - McClures
Don and Yvonne McClure, founders of the Someone Cares prison ministry, share a message with inmates that can benefit us all.

SC15 – Christmas Behind Bars - Lemuel Vega
Christmas is a lonely time for those behind bars. Lemuel Vega is trying to east the pain one inmate at a time.

SC16 – To God Give the Glory - McClures
Humble people tend to make things happen in a big way. Don and Yvonne McClure know the source of their strength and willingly give glory where glory is due.

SC17 – Pulling Back the Bars - Mike Coates
Mike Coates spent 15 years of his life behind bars. Now he's a man with a second chance and is on a brand new mission to touch the lives of ex-cons when they're at their most vulnerable.

SC18 – Thinking About Others - McClures
As Don and Yvonne McClure nurture the Someone Cares prison ministry they founded more than 40 years ago, they've discovered the secret for making the long run ...and loving it.

SC19 – Caring Airwaves - Lonnie Melashenko
When Christ asked us to care for those around uls, the world was a very different place. Lonnie Melashenko explains how media can reach hurting hears behind bars.

SC20 – They Broke Into Prison - McClures
Prisons are places most of us do our level best to avoid. Don and Yvonne McClure, founder/directors of the Someone Cares prison ministry, share instances where people brok in.

SC21 – Tragedy to Triumph - Brian and Diane Hamilton
Prisons reflect tragedy. But there can be triumph there as well. Brian and Diane Hamilton have experienced both and share their story filled with heartbreak and hope.

SC22 – He Did Not Come Back - McClures
Live and Learn. That's the goal of most people - and for good reason. Learning helps us to not repeat the mistakes we've made while living our lives. Don and Yvonne McClure share insights.

SC23 – The Language of Love - Luis Capote(Loo-eece Capotay)
America is a melting post of cultures and languages. It should surprise no one that its prisons reflect that diversity. Luis Capote knows this all too well, and is ready to help.

SC24 – We Can, Can You? - McClures
"You Don't know what you can do until you try." Don and Yvonne McClure have tried everything, and share what works and what doesn't when it comes to prison ministry.

SC25 – Women In Jail - Iris Giguere
Iris Giguere spends a lot of time in jail - and that's a good thing. She's not there because of something she did. She's there because of something she believes.

SC26 – It's Not Finished - McClures
Have you ever done a job you thought would never end? It can be discouraging to say the least. Don and Yvonne McClure don't let that stop them because all lives matter.
May, 2017

SC01 – Going to Prison – McClures
We see them from the highway with their cold, stone walls and endless coils of razor wire. We might even catch a glimpse of the guards in the tower, ever watchful of the mysteries hidden from our view. Don and Yvonne McClure created a ministry focusing on the very people we seldom see—those men and women behind bars.

SC02 – The Forgotten – McClures
They're called "inmates" and they've done something terribly wrong. But they're still children of our Heavenly Father and, as such, deserve our love and attention. This is the driving philosophy of Don and Yvonne McClure, a couple who has spent their lives serving inmates, administering large doses of Christian caring.

SC03 – The System – McClures
The American prison system is massive. Its yearly turnover tops 74 billion dollars, a figure that eclipses the gross domestic product of 133 nations. But, there are people hidden away behind that breath-taking expenditure. Don and Yvonne McClure have spent their lives finding ways to penetrate those stone walls.

SC04 – Greatest Need – McClures
Few of us will ever have the chance to sit down with an incarcerated individual and have a heart-to-heart talk with him or her. Don and Yvonne McClure, founders of the Someone Cares Ministry, do that for a living.

SC05 – Success Stories – McClures
A prison ministry such as Someone Cares runs on two rails: money and success. Without money, Don and Yvonne McClure, founders of the prison outreach program, would have to fold their tents and move on to accomplish other goals. Without success in what they do, there would be little motivation to continue to spend ministry money.

SC06 – Partners – Wade and Grady
Any ministry, including one created to help those behind bars, needs a little help from their friends. Lee Grady, a former administrator within the Adventist Development and Relief Agency International, and Ken Wade, former producer at the Voice of Prophecy radio ministry, have partnered with Someone Cares to create blessings for many.

SC07 – The Other Side – Dawson and Coates
Working with those behind bars is tough. Being one of those behind bars isn't exactly a walk in the park either. Former inmates Al Dawson and Mike Coates provide a glimpse within the prison system as they share how Someone Cares touched their lives and made a difference in the hearts and minds of countless prisoners.

SC08 – Life Prison – Lonnie Melashenko
Lonnie Melashenko, a well-known personality within Christian media ministry circles, shares a bit of his career history and reminds us that reaching those behind bars is in keeping with God's plan for our lives. He also reveals that sometimes, prisons don't have bars at all.

SC09 – Making Connections – McClures
"How to I reach my friend, my associate, my family member behind prison bars with God's love?" Don and Yvonne McClure created a ministry focusing on that very challenge. They've created a plan of action that's safe, effective, and life changing for both the reacher and the receiver.

SC10 – Toughest Cases – McClures
When you spend your life trying to carry God's love behind prison bars, the devil works overtime to keep that from happening. Don and Yvonne McClure, the driving forces behind the Someone Cares prison ministry, know this all too well. They share how Satan has worked to stop them, and how God has help them overcome every obstacle.
Back to Someone Cares Home Page

---
|Home| About Someone Cares | Newsletter | Newsletter Archives | Info Request | Contact Us |

© 2012 Someone Cares All Rights Reserved